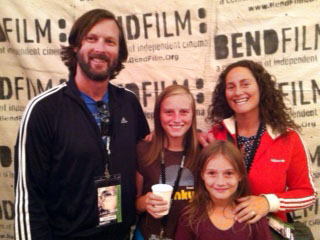 Welcome to Wonder Wheel Productions, a small film production company with a pocketful of passes to our own creative drive. An artistic collaboration between John Adams, Toby Poser, and our children Lulu and Zelda Adams, Wonder Wheel epitomizes our can-do attitude toward independent film making: we write, we act, we shoot (even the kids work the camera and sound); Toby produces, and John edits and scores. We are cast AND crew — a small team, but we dream big.
In 2010 the family hit the American highway. Befriending coastlines, mountains and deserts along the way, we kissed 205 sunsets and shot Wonder Wheel's first feature-length film, RUMBLESTRIPS — a fictional tale of how one family navigates loss, love and an impending prison sentence. Our second feature, KNUCKLE JACK, is a tale of small town life, lovable losers and larceny, shot entirely in New York's Catskill Mountains. Both films had successful runs on the independent film circuit, winning awards (including Jury and Audience) coast to coast.
Our third feature, THE SHOOT, was shot in downtown Los Angeles and the contrasting desert reaches of Joshua Tree. This dark, sometimes funny comment on American dreams and nightmares in the rock and roll industries (all tied up in a sandy whirl of high heels, hot sun and sweet survival) premiered in Paris. (Please see RUMBLESTRIPS, KNUCKLE JACK, and THE SHOOT for Video on Demand and screening options.)
Our fourth feature, Halfway to Zen, happily takes us back to our New York roots. A portrait of a banged-up family that reunites to spin the world in new directions, Halfway to Zen had its World Premiere at the 2016 Woodstock Film Festival. Check here for screenings.
MovieMaker April 2017: The Family That Makes Movies Together Stays Together
Crossroads Today news feature on Wonderwheel Productions:
Indie Film Fest Lands in Victoria